Somewhere between figuring out grad. school (M.Sc/Ph.D level work) and discovering a life outside the dark nerd-haven that is my home, I have found myself frequenting what seems like a borderline-unhealthy amount of coffee shops. One joke and enabling personality later, I begin a quest to find the best mocha in all the world, or at least, wherever my graduate student-sized wallet can afford to take me. 
We begin this adventure in my hometown: Coquitlam, British Columbia, Canada. Or, more specifically, the Creekside Coffee Factory near the city's heart. Even though I grew up in the area, I never knew this cafe existed; it cannot be seen from the road, and is surrounded by businesses and restaurants. Even on the off-chance you do see it in passing, the outside does no justice to the quant decor inside. The interior has a good sense of character, with notoriously large stuffed bears, and brick and wood walls that are decorate to a perfect degree. Spacious, yet small, this cafe offers plenty of seating without feeling too crammed, and free parking. All in all, a great place for an evening get together, self-contemplating, or a place to work.
Environment aside, the true testament to any cafe is the skill and care of their baristas, which in both categories is high in Creekside Coffee Factory. Each Mocha comes with a wide and varied variety of art; art that goes above and beyond the normal leaf or heart shapes. I have yet to see the same design any of the half-dozen times I've spent an afternoon here. Complemented with dine-in drink delivery and unsolicited smiles, the staff is top-notch.
Lastly, we get to the main course: the mocha. Like always, there are two scales I use to assess a mocha: hot chocolate to cocoa, and no espresso flavor to strong espresso flavor.
No Espresso Flavor to Espresso Flavor Scale
Hot Chocolate Flavor to Cocoa Flavor Scale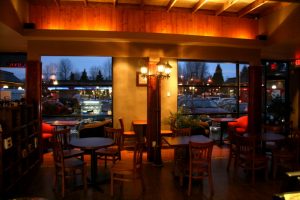 The default mocha delivered by Creekside Coffee Factory has no foam, and a milk-chocolate flavor, but it does not have any noticeable espresso flavor to it. The chocolate flavor is not overpoweringly sweet, which is quite delightful if I am craving chocolate. But, I do have a personal preference to the rare cocoa-espresso style mocha.

Creekside Coffee Factory is a quieter, better, and local establishment when compared to the Starbucks behemoth. If I was in Coquitlam, I would not hesitate to substitute Starbucks stops with Creekside, and would even go out of my way to recommend doing so for thirsty espresso connoisseurs.